F.A.R.C.E. Photo Gallery
ARRL FIELD DAY - 25/26 JUN 2011
Operating "KF6NNM&quot, as Class=2F, Section=SV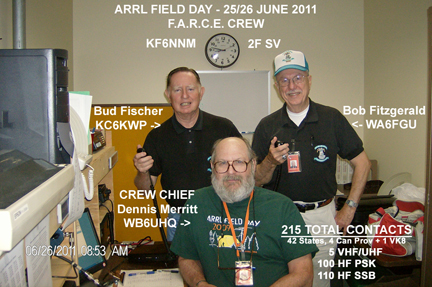 Bud-KC6KWP was first to arrive on Sat, 6/25, followed by Dennis-WB6UHQ the FD Crew Chief.
These two spent the night (Dennis slept in the ECC, Bud slept in his car - neither one got much sleep).
Bob-WA6FGU didn't arrive until 8am PDT on 6/26. Everything was shut down at 11am PDT on 6/26.

Web site design, graphics, images & content Copyright © 2003 by F.A.R.C.E. (WA6FGU). All rights reserved.